A Registered NDIS Provider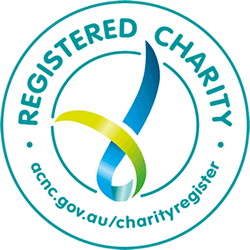 SWARA is a Not-for-Profit learning and life skills centre which aims to empower people of all abilities to reach their full potential in a loving service environment. The SWARA family welcomes all people with low-medium disabilities. For more information on joining our family, please submit an expression of interest in the Contact section or call our centre directly on 07 3391 4119.
​
We believe everyone can embrace who they are,
define their future and can change the world.
To be an enduring community leader, empowering people of all abilities to reach their full potential in a loving, service environment.
To enhance and connect creativity, human dignity and leadership.
Loving service in action.
SWARA was founded in 1975, by Pink Twins Dorothy and Moyia O'Brien who saw the need to help families and communities. They used their own funds, and those of loyal supporters, to establish SWARA in the Roma Street Parklands. The Twins understood that many people with disabilities need, first and foremost, a sense of value, of belonging, and of relationships that are secure and not too dependent on conformity. These two wonderful ladies identified that, often, the greatest handicap was the lack of self-esteem, and the experience of isolation and rejection that befell many in our community with disabilities.
The Twins would often talk about finding a spark in another, and fanning that spark until it becomes a roaring flame. We at SWARA are committed to recognising and nurturing sparks and flames in all who walk through the door at 101 Park Road, Woolloongabba. We will work on that human potential. In everyone, and not just our clients. And we will celebrate as we make those flames roar. We will do this through Loving Service.
​
"The Pink Twins are no longer with us, at least not in person. But I have every confidence and belief that they are with us in spirit. I also feel they would recognise the new challenges faced by the organisation they founded, and would be thrilled (using their expression) with the Loving Service SWARA's precious clients continue to receive despite the present, dynamic environment" (TP O'Brien's Chairman Report, November 2018).
I fell in love with SWARA as soon as I began my student placement in 2014. It's amazing to see how much growth the clients show everyday. I'm grateful to be part of such a loving, nurturing environment.
I began my time with SWARA as a volunteer over 10 years ago. I immediately fell in love with everyone here and it felt like a second family to me. I shortly after became an employee. I enjoy being with the clients, showing people around and introducing others. I am proud of SWARA and the beautiful place it has become. It is an absolute privilege to work here and be a part of the SWARA family.
I came to SWARA in 2016 as part of my placement for my degree in Education. I enjoyed helping everyone learn so much that I didn't want to leave and have continued on coordinating the Learning Skills programs.
I started as a student and fell in love with SWARA's participants as well as the team. I didn't hesitate when I was then asked to join SWARA. I feel grateful to be a part of this team.
I started at SWARA as a volunteer after graduating from high school and soon became a staff member. I am studying a bachelor of speech pathology at UQ and a certificate IV in disability. I have a true passion for working with those in need to help them achieve their goals and maximise their quality of life.
Many years ago, I started volunteering at SWARA as I had a connection with the Pink Twins. I am thrilled to be a member of the SWARA team as a I truly embrace supporting all the participants to reach their goals to independence.
I have a passion for art, language and music as well as a sincere desire to drive those in need. When I came across SWARA I instantly saw the value in how life skills activities could provide increased independence and a sense of community for participants. I am grateful to be part of this wonderful team.
SWARA Adventures is a newsletter that is written by the clients of SWARA. This newsletter captures and summarises the main events that have taken place at SWARA over each quarter. Each newsletter has a particular theme and a brain teaser relating to that theme. Thank you to all of the clients that have assisted us in creating this wonderful summary, we really appreciate your help. Please click on the links on the sidebars to view the newletters!! Extracts from previous newsletters can be found below.
The Federal Government introduced the National Disability Insurance Scheme (NDIS) through the NDIS Act 2013. Participants set their own goals and pathways and will be funded to achieve those goals. The system supplies funding directly to participants who can self-manage or have NDIA manage their funds, providing more choice and control over the services they select.
​
At SWARA we work with participants and their carers to identify goals, develop pathways and work with individuals to achieve their aspirations. In addition, our goal at SWARA is to ensure our participants not only have access to services from SWARA, but also to other services in the community.
​
Read more about the SWARA NDIS Program and our NDIS Frequently Asked Questions.
​
​
For details regarding NDIS Pricing and what is included in each support category click on the link below.
For easy reference, click the link below to view specific SWARA Support Pricing (as per NDIS Support Catalogue).
SWARA Cancellation Policy